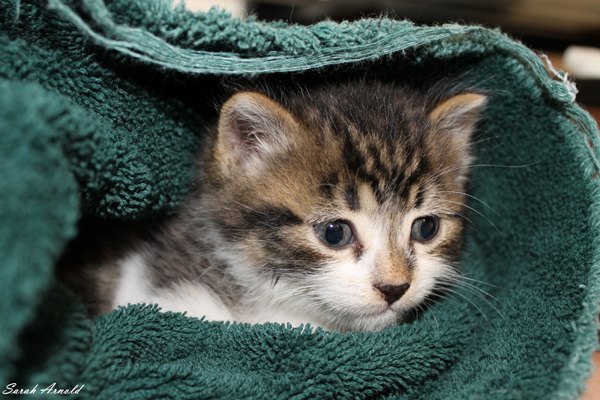 UPDATE:
Little George was a beautiful kitten found recently abandoned and in bad shape.
After being brought into the care of Oasis Animal Rescue and placed into one of the homes in our pet foster care network, he started to bounce back and we had a lot of hope for him.
Unfortunately, Little George suffered a severe stroke and our veterinarian decided that euthanasia would be the best option to relieve his suffering. We don't know what caused the stroke and it is very rare in a kitten so young. Perhaps unknown circumstances in his sad start to life?
R.I.P. Little George. It was great to have had the pleasure of knowing you.
ORIGINAL TEXT:
Little George is a lucky boy. Just four weeks of age, he was found by the side of the road in pretty bad shape.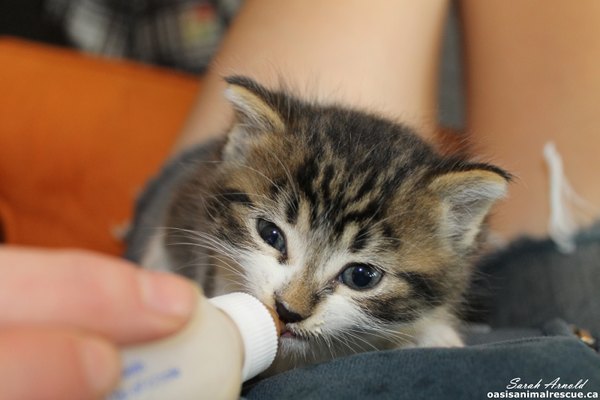 Flea infested, starving and obviously suffering from neglect, this tiny feline is now being bottle fed in a foster home and thriving.
He will be available for adoption into a permanent home by the last week in July.
——————————————————–
View more domestic pets available for adoption at the Oasis Animal Rescue and Education Center, Durham Region.
Perhaps someone in your social network would love to adopt one of our rescue pets.
Share the pics with your friends.