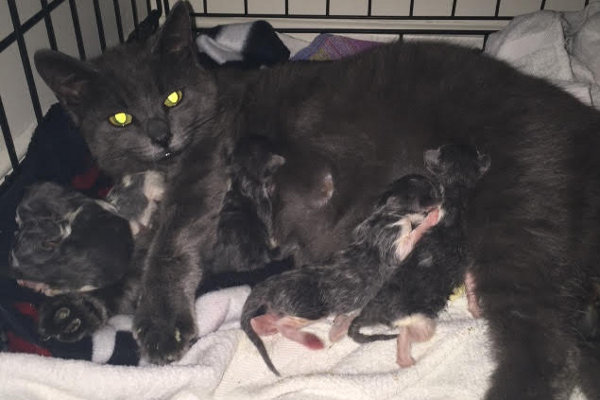 UPDATE Sept 8, 2015:
Sanza has been adopted by her foster mom's daughter. This little lady will have two older cats as companions and then, of course, a steady stream of foster kittens to play with as they, too, seek their forever homes. Never a dull moment in this busy household!!
Cerci has found her forever home with a couple from Unionville. They already have a nine year old cat who will, no doubt, become fast friends with this playful, sociable kitten.
UPDATE August 20, 2015:
Ed has been adopted by his foster family in Brooklin.  This little chap became best friends with the other kitten in his household (Romeo) and it was decided that they should not be separated. An excellent decision!!
Have fun Ed!
UPDATE August 11, 2015:
Cerci and Sanza (now 14 weeks of age) pose for the camera.
UPDATE August 3, 2015:
New photo just in of male kitten, Ed:
UPDATE July 20, 2015:
Sanza, Cerci and Ed are now 11 weeks of age. They have visited the vet, have been dewormed, been given their first vaccinations and they're ready to go to loving homes. Please scroll down for our contact form.
UPDATE July 15, 2015:
John Snow has been adopted by an extended family in Pickering with other felines who will be his "playmates". Lucky boy. Never a dull moment in his little life from this day forward!! Congrats John Snow.
The three remaining kittens in Smokey's litter, Sanza, Cerci and Ed, are hoping that they too will be adopted soon.
UPDATE July 14, 2015:
Sadly, the littlest kitten, Arya, has passed away. RIP.
UPDATE June 30, 2015;
Jamie has now found her forever home.
UPDATE June 23, 2015:
Born on the 4th of May, Smokey's kittens will be old enough to join forever homes from the beginning of July.
Meet Cerci, John Snow, Ed, Jamie, Sanza (and Arya, RIP):
Please scroll down for our online contact form if you are interested in learning more about adopting a rescue kitten:
————————————–
Original Text:
Smokey gave birth to six beautiful babies on Monday, May 4th.  They will be ready to go home with their forever families the first week in July. Mom and brood are thriving!!
———————————————-

———————————————-
If you would like more information about fostering or adopting a rescue pet please contact Oasis at 289-385-6293, or complete and send this contact form:
I'd like to know more about adopting a pet from Oasis:
Please check you've entered your contact details correctly. When you press 'Submit', you will be redirected to our home page and a confirmation email will be sent to you - if not received in your inbox, please check your spam box. If applicable, please also specify the name of the animal you are enquiring about. Thank you.
CATS For Adoption – Toronto and the GTA.
DOGS For Adoption – Toronto and the GTA.
How Your Donations Help The Pets At Oasis
Help our Toronto and GTA rescue pets to find new homes – Please share our animal stories with your friends. Or subscribe here for free to receive pet updates straight to your inbox:

Oasis Animal Rescue – a non profit organization providing Durham Region, Toronto and GTA with humane animal rescue services – specializes in pet adoptions, re-homing and community outreach programs. Telephone 289-385-6293
Subscribe To Our News Feed
You'll Get FREE Updates and info on rescue pets available for adoption in Toronto and GTA sent direct to your inbox. (Oasis does not share your email address and you can unsubscribe at any time.)
Delivered by FeedBurner