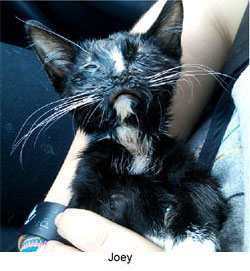 It has now been thirteen months since Oasis Animal Rescue and Education Centre opened its doors at 86 Simcoe Street North in Oshawa. To be frank, we had absolutely no idea what the response would be to our innovative animal food bank program or our commitment to stemming the tide of abandoned, displaced or unwanted pets through a foster parent network and re-homing efforts.
Suffice it to say that, as in any new venture, we took a deep breath and rallied to meet the diverse needs of a cross-section of folks struggling to care for their pets when faced with mounting financial concerns and a lack of access to medical attention.
In the long run these situations proved to be easier to solve than the continual flow of paper bags and cardboard boxes containing infant felines (some as young as two days of age) and senior cats in their last stages of life that tore at our hearts.
How could a member of the human race be so cruel? How could a man or woman abandon a defenseless creature to an unknown fate at the hands of an organization of which they knew nothing?
These questions proved to be somewhat rhetorical, however, for our mandate from day one has been to focus on the well being of the animal at hand and not on its human component.

It is well known that pictures speak a thousand words. Look closely at 12 week old Joey whose owner refused to seek medical help for this severely ill kitten. In the end even extensive veterinary care could not save Joey and he was euthanized.
Take a moment to ponder the fate of Tinkerbell and Molly who have been bounced from one household to another over the course of the last few months through no fault of their own. The cat is clinically depressed, the dog simply sad. Gaze upon the faces of Lily-May, Chocolate and Halo, three kittens who were abandoned on our doorstep at less than five weeks of age with their mother Lara who was so ill that we truly believed she would not survive.
We, at Oasis, will continue our work regardless the challenges we face on a day to day basis. There is too much at stake for the animals we encounter to consider any other course of action.
Our plea to you, the general public, is this:
Spay and Neuter Your Pets, choose Not to become an owner or caregiver unless you are resigned to the fact that this is a long term commitment (upwards of 18 years in some cases) and will entail thousands of dollars being expended on food, supplies, vet bills and the like.
Please be forthright and explicit in expressing this message to friends, family and all who you come in contact with. Be proactive and help us at Oasis to stem the alarming feline and canine population explosion in Durham region.
We, at Oasis Animal Rescue, are at the forefront of this battle but know that our best success lies in tackling the problem one animal at a time.
Janet Smith