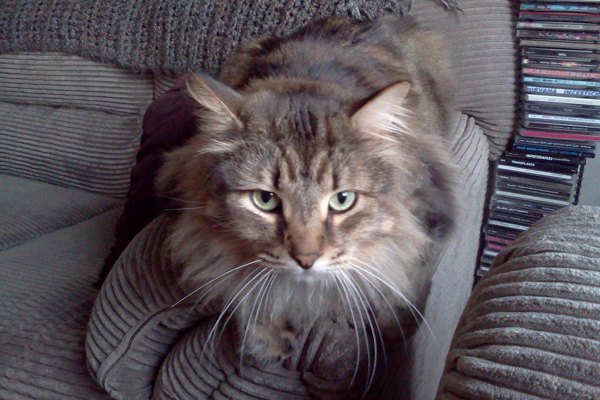 UPDATE:
Cat Cleo has a lot to keep him occupied these days! And big decisions to make too. Like "Who in my new family deserves to sleep beside me tonight?", or "Which one of my new doggie friends will I play with today?" Yes, the life of an energetic cat is so much more fulfilled when there are people and other pets around to keep them busy and that's just what Cleo has found in his new home.
A house in the country….two teenage boys…two dogs…and occasional visits from his first family….what more could he ask for?? Probably a little more food… and a little more…. and a little more!!! (Hey, slow down!!)
Congratulations on finding your new forever home Cleo. Isn't it great when things work out so well?
————————————
Original Text:
Cleo, at four years of age, has been in the same home since he was a tiny kitten. His present owners truly care about him but a new baby has been added to the family mix and he is not adjusting well.
They believe, and we agree, that the kindest thing for Cleo is to find him a new forever home. Cleo is neutered, de-clawed and up-to-date on his vaccinations.
He presently lives quite happily with a canine companion but would do better, perhaps, to join a single cat family for he is a voracious eater and might encounter hostility if he "scoffed" all the cat food at offer.
Cleo is playful, loving and energetic. We believe he would be a fabulous addition to any adult household.
——————————————————–
If you, or someone you know, can help a pet in need, please contact Oasis Animal Rescue at 289-385-6293, or complete and send this contact form:
I'd like to know more about adopting a pet from Oasis:
Please check you've entered your contact details correctly. When you press 'Submit', you will be redirected to our home page and a confirmation email will be sent to you - if not received in your inbox, please check your spam box. If applicable, please also specify the name of the animal you are enquiring about. Thank you.
View more domestic pets available for adoption at the Oasis Animal Rescue and Education Center, Durham Region.
Perhaps someone in your social network would love to adopt one of the rescue pets at Oasis.
Please share our pics with your friends.