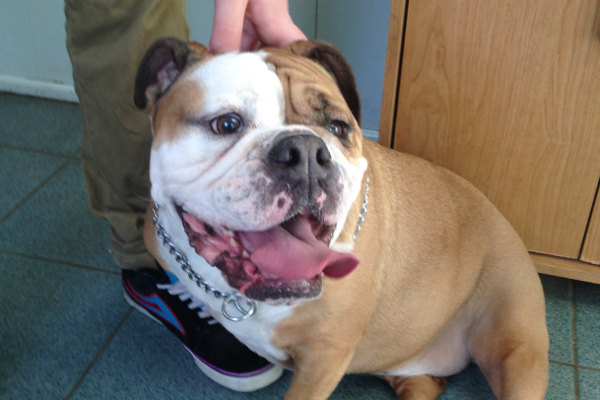 Betty
2019 – 2014
Rest In Peace
With sadness we announce that after a very brave battle, English Bulldog Betty has peacefully passed away.
She asked so little yet gave so much. This special girl brought a community together and touched everyone with moments of joy. Betty's amazing foster parents truly offered the love and support that she deserved and, for that, Oasis is extremely proud and thankful. They are the ones most suited to offer this moving tribute to Betty and her supporters:
08/25/2014

by Jason and Emilee

In Loving Memory of Betty
Thank you, Jay, for writing this tribute – something I have been wanting, but unable, to complete.

It is with tears in my eyes and the deepest of hurt in my heart that I have to let all of you know that we lost Betty a few days ago.

It has taken me a few days to process the rush of emotions. All told Betty brought something to our lives that I will cherish forever! Betty was neglected, abused, uncared for, and unloved…. yet having gone through all of the worst, Betty somehow still was able to show me, and I hope some of you also, the best attributes all dogs are capable of sharing.

It makes me tear up and shake my head in wonder when I stop and think about all of the amazing things you all did for Betty! You told Betty's story to your friends, co-workers, and family. You shared Betty's story on social media sites. Cash donations came from 3 blocks away to 3000kms away. There were tools donated by Snap-on, donations made by my online gaming league, donations made by our friends and our co-workers. You helped gather donated items for the Garage Sale. We sold bobbleheads, board games, air conditioners, toaster ovens, cat beds, picture frames, bed frames, chess sets…

Betty brought out the Best… she brought out you guys.

I have been humbled and awestruck by all of you! Your acts of compassion, kindness and commitment to Betty have left me astounded. I can't even begin to properly express the gratitude I feel. You are the most amazing group of people. Thank-you so much!
Rest In Peace Betty.
———————————————–
Betty's story, photos and comments from supporters can be found here.