Update 25 March:
Aries has found his forever home. The last kitten, raised by mom Shiloh, to be reserved, will join his new family and meet his new best friend – a golden retriever! Best wishes to all.
All of the kittens in this litter have found homes, however Misty is expecting kittens soon. Please contact us for more info or register (right hand column) to receive regular updates and pet news direct to your email inbox.
Update 6 March:
Shiloh's four kittens have found homes, plus one of the orange kittens – named Leo – now has a new family waiting for him when he is ready to leave his adopted mother Shiloh. YAY!
The final kitten named Aries (orange – male) is still searching for a home. Please contact Oasis about this kitten by using the form below or by calling 289-385-6293.
Update 3 March:
Like their brothers, we've also now managed to find forever homes for Shiloh's two female kittens.
Her two adopted kittens (orange/males) remain on our adoption list.
UPDATE:
Last Saturday, two more young kittens arrived at our office on Simcoe St. North, delivered by a man who said he had found them.
Thankfully Shiloh, who delivered four kittens on Feb. 16th, accepted them as her own and began to nurse them with her brood. So now she has six babies!
Of her own litter, there were two boys and two girls. We've managed to find future homes for both of the boys, though their two sisters (both with black and white spots in the photo below) are still for adoption.
The two new kittens are the orange ones in the photo. Both of them are male.
————————————–
Saturday, February 16th was a big night for cat Shiloh… while watching previously-aired episodes of The Big Bang Theory on TV, she managed to produce four tiny kittens. So naturally they've each been given Big Bang Theory names: Sheldon, Penny, Bernadette and Leonard.
All going well for these little newborns, they'll be ready for adoption into kitten-friendly homes at about 8 weeks of age. Complete and send the contact form below if you are interested in learning more about adopting a kitten.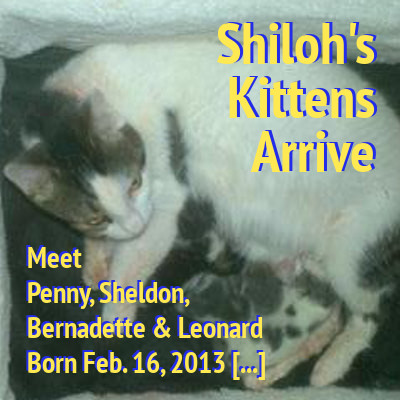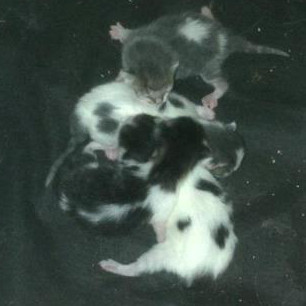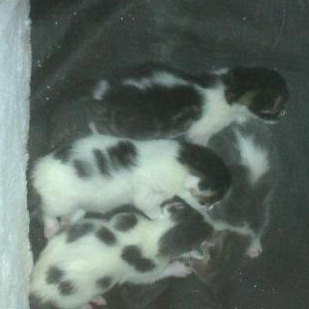 ———————————————-
If you would like more information about adopting a rescue pet please contact Oasis at 289-385-6293, or complete and send this contact form:
I'd like to know more about adopting a pet from Oasis:
Please check you've entered your contact details correctly. When you press 'Submit', you will be redirected to our home page and a confirmation email will be sent to you - if not received in your inbox, please check your spam box. If applicable, please also specify the name of the animal you are enquiring about. Thank you.
Durham Region Cats For Adoption.
Durham Region Dogs For Adoption
Help our rescue pets find new homes – Please share our animal stories with your friends. Or subscribe here for free – receive pet updates straight to your inbox:

Oasis Animal Rescue – a non profit organization providing Durham Region society with humane animal rescue services – specializes in pet adoptions, re-homing and community outreach programs. Telephone 289-385-6293